Activities in St Andrews
Population and Health Research Cluster meetings
The Research Cluster meets twice a month (Tuesday afternoons). All welcome!
All meetings are held from 3.30 (for 3.45)-4.45pm
Meetings begin with conversation and coffee (bring-your-own drink, biscuits provided!)
For a full list of the next few months click here
---
Upcoming sessions
Tuesday 16th May from 1-2pm in the George Cumming Room
Guest Research Presentation – Dr Andreas Stenling, Umeå University, Sweden on 'Longitudinal data analysis: Promises, pitfalls, and challenges'
This presentation will focus on important issues related to analyses of longitudinal data, such as theories of change and time and disaggregation of between- and within-person processes. It will be a non-technical discussion about key concepts related to longitudinal data analysis with a special emphasis on within-person change.
Example recent papers:
Stenling, A., & Tafvelin, S. (2016). Transfer of training after an organizational intervention in Swedish sports clubs: A self-determination theory perspective. Journal of Sport & Exercise Psychology, 38, 493-504. doi:10.1123/jsep.2016-0084 [IF = 2.379]
 Stenling, A., Ivarsson, A., & Lindwall, M. (2017). The only constant is change: Analyzing and understanding change in sport and exercise psychology research. International Review of Sport and Exercise Psychology, 10, 230-251. doi:10.1080/1750984X.2016.1216150 [IF = 3.682]
---
Tuesday 16th May, 3.30-5pm, Seminar room 310 (Irvine) Dr Timothy Riffe (Max Planck Institute for Demographic Research)
'Extensions and applications of the Lexis diagram'
Abstract
The Lexis diagram is a Cartesian plane defined by calendar time (P) and age (A). Birth cohorts (C) are a third and redundant alternate coordinate also defining this plane. Demographic quantities may be patterned along any of these three time measures, and such patterns may be useful for either predicting or understanding demographic processes. The APC relationship is familiar to most population scientists and considered fundamental. This temporal plane instrument may be defined on the basis of other time measures. For example, time in the labour market, time until retirement, and length of working life form an identity, and these can be used as Lexis-like Cartesian coordinates to reveal patterns over the working life course. The instrument is therefore general. I will give a condensed introduction to these concepts and a variety of suggested applications in different domains of research.
---
Previous meetings
Tuesday 4th April: Research Presentation – Helen Packwood
Helen will present her work on educational transitions and trajectories.
---
Tuesday 21st March: Guest Research Presentation – Dr Gemma Catney and Professor Chris Lloyd (Liverpool)
---
Tuesday 7th March: Guest Research Presentation – Dr Theodora Lam (National University of Singapore)
---
Tuesday 21st February: Elspeth, Albert and Nissa
---
Tuesday 7th February: Research Presentation – Hill Kulu and Julia Mikolai

---
Tuesday 24th January: Research Presentation – Paula Duffy
---
Tuesday 10th January: Research Presentation: Inequalities in wellbeing
---
Tuesday 6th December – Guest Research Presentation: Prof Vernon Gayle
---
Tuesday 22nd November – Reading Group: Migrant times beyond the lifecourse

---
Tuesday 8th November – Research Update: Migration within Scotland

---
Tuesday 4th October: Research Presentation – Albert Sabater and Elspeth Graham
---
Tuesday 20th September: Seminar with Tom Slater

---
Tuesday 6th September: Cluster meeting – Roundtable update

---
Tuesday 23rd August: Research Presentation – Nissa Finney

---
Tuesday 9th August: Cluster meeting

---
Tuesday 26th July: Research Presentation – Benet Reid

---
Tuesday 12th July: Presentations from Research Visitors

---
Tuesday 28th June: Research Presentation – David McCollum
---
Tuesday 14th June: Student Mobility Research Presentations – Glenna Nightingale and Laura Prazeres
---
---
Events beyond St Andrews
The Annual Meeting of the Population Association of America (PAA)
April 2017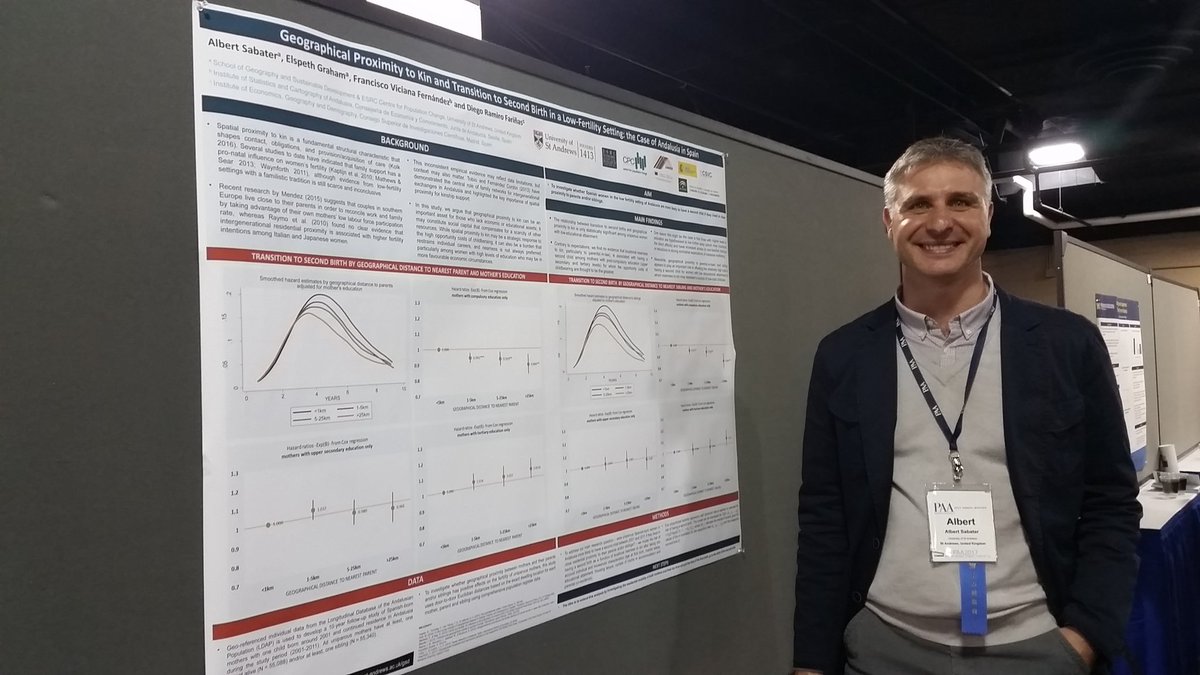 The Population and Health Research Group from the School of Geography & Sustainable Development at the University of St Andrews had a significant and successful presence at the recent Population Association of America Annual Meeting 2017.
The Annual Meeting of the Population Association of America (PAA) provides a forum for demographers, geographers, sociologists, economists, public health professionals, and other individuals interested in research and education in the field of population studies. In 2017 the PAA conference took place in Chicago, Illinois (USA), April 27-29.
Researchers from the Population and Health Research Group presented and discussed new research in presentations (2) and poster sessions (5) at this important event of the year (see below a full list of presentations and posters with our staff). In addition, the following poster contributions by members of our staff and/or in collaboration with St Andrews received poster awards at PAA 2017:
–Parental Support and Transition to Second Birth in a Low-Fertility Setting: The Case of Andalusia in Spain; Albert Sabater, Elspeth Graham, Francisco J. Viciana, Diego Ramiro-Fariñas. Best PAA poster in the poster session 8: Fertility, Family Planning, Sexual Behavior, and Reproductive Health.
–Make Up or Break Up? Union Histories of Young Adults in England and Wales; Alina Pelikh, Hill Kulu, Julia Mikolai. Best PAA poster in the poster session 2: Family Demography.
Papers
Redundancy and the Great Depression in the Metropolitan Region of Barcelona: Philanthropic Records as a New Source for the Study of Poverty; Juan Galeano,Albert Sabater, Andreu Domingo
Fertility by Birth Order Among the Descendants of Immigrants in Selected European Countries; Hill Kulu, Tina Hannemann, Ariane Pailhe, Karel Neels, Allan Puur, Amparo Gonzalez-Ferrer, Gunnar Andersson, Laura Bernardi, Sandra Krapf
Posters
Radstats Conference
18th Feb 2017
Nissa Finney, Alan Marshall, Glenna Nightingale, Albert Sabater and Bozena Wielgoszewska (now at the University of Edinburgh) organised the 2017 Radical Statistics Conference in Edinburgh.
http://www.radstats.org.uk/conference/Edinburgh2017/
CALLS Hub Webinar
13th December 2016
Fiona Cox and Alan Marshall delivered the first CALLS Hub webinar this week on the use of census longitudinal studies for research on health inequalities. The webinar featured excellent presentations from researchers at the University of Liverpool, St Andrews and Queen Mary University of London. A recording is now available on the CALLS Hub website at http://calls.ac.uk/guides-resources/thematic-guides-webinars/
Urban Health Collaborative Research Seminar
17-22nd November
Dr Allan Marshall presents at the Gerontological Society of America Conference in New Orleans and visits Dornsife School of Public Health to give a talk.
AQMeN International Conference: Rediscovering inequalities
26-27th October 2016
---
British Society for Population Studies Conference 2016
12-14th September 2016
---
European Population Conference 2016
31st August – 3rd September 2016
---
RGS-IBG Conference 2016
30th August – 2nd Septemeber 2016